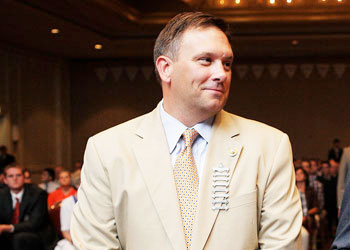 By Rich Fabritius – General Council Reporter
I just did one of the hardest things I have to do in my job – I had to let an employee go.  The reasons don't really matter.  I could blame it on the sluggish economy, poor performance, a career that didn't evolve with the changes in technology.  Regardless of the reason, these meetings are tough on me.  They are infinitely tougher on the person on the other side of the table.  That can never be questioned.
As I prepared for this unpleasant meeting, I drifted back to where I was just a few short days ago:  in a beautiful lecture hall filled with 400+ undergraduate Phis and Alumni at ELI. I had the distinct honor and privilege of unveiling Phi Delt's new brand strategy and position at this meeting in Oxford.  This new brand position is most notably articulated in our tagline:  Become the Greatest Version of Yourself.
When you are facing tough times, it's pretty natural to return in your own mind to something less daunting, less difficult, or even, less intimidating.  So while preparing to say goodbye to a co-worker, my mind kept returning to Oxford.  To ELI.  To the support of my Brothers and the warmth in which our new brand work was received.  A good memory without a doubt.
I used this marvelous experience as a source of strength and confidence while steadying myself this morning.  Funny, many people cite public speaking as their greatest fear… but I frankly love it.  I wonder how many people would trade places with me right now?  "Heck, I'll let the guy go from his job before standing up to talk in front of 400 strangers."  Can't imagine.  Maybe I'm crazy!
But what hit me, and why I'm writing this, is that at the cornerstone of being a Phi is courage.  That's really what our new position is about – Courage.  Courage to seek out the best in yourself and in others.  I continually learn from being a member of this great Fraternity. I learned more than I ever realized during my undergraduate years.  Some of those lessons return to me everyday while I perform my duties as an advertising executive and in my most important roles as a father and a husband.
This is what I love most about Phi Delt.  If embraced, it is the greatest time of your life while simultaneously being one of the most challenging and difficult endeavors you'll ever face.  It teaches you humility while instilling confidence.  It is filled with incredible memories while preparing you for the future.  It never stops making you better.
I don't think that I was the greatest version of myself this morning.  Far from it.  But, I do believe that Phi Delt had a huge part in why I was able to do what I had to do for my company today.  And why I had the courage to do it.
Brother Fabritius is the General Council Reporter. His other volunteer service to Phi Delt has included Education Commissioner and Province President. Rich lives in Atlanta with his wife, Heather, and their daughters, Austin and Reese. A past consultant and director of chapter services for the General Headquarters Staff, he is a graduate of Kent State University and a member of the Ohio Lambda Chapter. Rich is Vice President, Managing Director of Brunner, an advertising and marketing agency. His hobbies include traveling, golf, and boating.