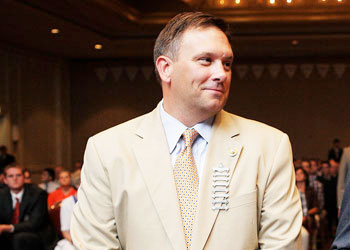 By Rich Fabritius
When I was asked to blog about PR for this month's post my immediate thoughts went to exploring an experience from my professional life.  As an advertising guy I work alongside our PR professionals all the time, as well as practitioners from other agencies.  It's fun to work with them in building a client's business – building their reputation.
While there are certainly lessons and observations I can draw upon to inform this post, in the end I find them a little weightless in the context of being a Phi.
Instead, I got to thinking about reputations within our Fraternity and the fraternity world.  We are very lucky to be Phi Delts.  We've got one of the best – if not the best – reputation in the fraternity world today.  Other fraternities envy our organization for a variety of reasons.  Our educational programming is among the best out there; providing our undergrads and alumni volunteers with tremendous opportunities for growth and development.  Our undergraduates are among the best men walking the hills of college campuses across  North America.  Our alumni are engaged and give tremendous amounts of time, talent and treasure to Phi Delt.  And most importantly, we are always willing to make hard decisions for the betterment of the organization in order to honor and perpetuate the objectives of The Immortal Six.  Other groups envy us because we make hard decisions.
I personally find strength in the notion that I am a member of an organization who is willing to do the right thing. Which leads me to reputation management.  We owe each other, and ourselves, the effort to be the best we can be.  To manage our reputations individually and as an organization.
Do you like what you see when you look in the mirror?  Do you feel like you're living up to the challenges of The Bond?
I'd argue that the best reputation management that can be done is making sure you can look yourself in the eye.  Being a Phi means being better than common and challenging ourselves and our brothers to be better than ordinary.
The great thing about Phi Delt is the expectations are clear and easy to understand.  And we know when we've lived up to the challenge and when we've fallen short.  Falling short is OK. Falling short means you recognize the need for improvement and perhaps some help from your brothers in the process.  That's what they're there for!
I was given a book call The Edge when I went off to Kent State.  It was a compilation of inspirational quotes and stories.  The book's author was a Cleveland area high school wrestling coach.  With the exception of my badge, it was my most prized possession in college.  (Many an eye rolled when I quoted The Edge at a chapter meeting.)  During my last chapter meeting before graduating I bequeathed The Edge to one of my favorite brothers.  I miss that book.  But I learned years later that Collin Boetger still has it in his home –  years since I gave it to him that spring night in 1994.
My favorite passage from The Edge is a poem entitles The Man In The Glass.
I'll end this post with it.  I hope you challenge yourself to manage your reputation by challenging yourself to be the best you can be.  To live a satisfied life. Knowing that you are accepting the challenge of our Founders to be more than ordinary, more than average.  In the end, the only one who will know if you've truly succeeded is you!
The Man In The Glass
By David Winbrow
When you get what you want in your struggle for self
And the world makes you king for a day,
Just go to the mirror and look at yourself
And see what that man has to say.
For it isn't your father or mother or wife
Whose judgment upon you must pass.
The fellow whose verdict counts most in you life
Is the one staring back from the glass.
You may be like Jack Horner and chisel a plum
And think you're a wonderful guy.
But the man in the glass says you're only a bum
If you can't look him straight in the eye.
He's the fellow to please-never mind all the rest,
For he's with you clear to the end.
And you've passed your most dangerous, difficult test
If the man in the glass is your friend.
You may fool the whole world down the pathway of years
And get pats on the back as you pass.
But your final reward will be heartache and tears
If you've cheated the man in the glass.
Brother Fabritius is the General Council Reporter. His other volunteer service to Phi Delt has included Education Commissioner and Province President. Rich lives in Atlanta with his wife, Heather, and their daughters, Austin and Reese. A past consultant and Director of Chapter Services for the General Headquarters Staff, he is a graduate of Kent State University and a member of the Ohio Lambda Chapter. Rich is Vice President, Managing Director of Brunner, an advertising and marketing agency. His hobbies include travel, golf, and boating.