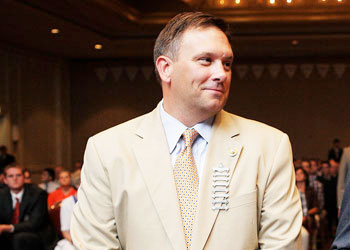 By Rich Fabritius, General Council
My Phi Delt experience has been filled by the presence of so many tremendous volunteers.  Many of them have never gotten a mention in The Scroll or during a convention; but they work hard for our undergraduate men and alumni brothers day after day.  I've been asked to write about a Fraternity volunteer who's enriched my experience – and my life in general.  My variety of great experiences with many a Phi Delt volunteer makes it difficult to comment on one brother.
My first contact with the General Fraternity was through my province president when I was an undergraduate, Brother George Porosky. With his Mercedes Benz parked in the street across from the chapter house – parking lights on – he was a consistent, positive presence in our chapter.  Patient and ever in control, George steered us when we needed it and let us go when we needed to learn a lesson.  He hated our chapter meetings.  He thought they were too long. He's an engineer so I think some of our ridiculousness was in firm contrast to George's constitution. Those meetings were long, very long.  He was right of course.  But they were fun and I remember thinking there was no other place on the planet I'd rather be than down in the chapter room on Sunday nights.  George is a main figure in my mind's memory of those days.
But, the volunteer who taught me perhaps my most treasured lesson about Phi Delta Theta is Brother Jim Warner.  Jim succeeded George as province president of Sigma South and prowls the sidelines of Northeast Ohio for us to this day.  Jim was an adviser at Akron with Ohio Epsilon – his alma mater just like George – when I first met him.  I was an undergraduate and remember meeting him at a Kent State homecoming.  Now, there is a rivalry between Akron and Kent; both institutionally and between our chapters.  So I was a tad perplexed by the presence of an 'Akron Phi' at a Kent homecoming.  But, when I met Jim I realized quickly that he didn't care about what chapter you were from, he cared about you and he cared about Phi Delta Theta.  I learned from Jim a lesson that has led me to this position today on the General Council.  I learned that Phi Delt isn't just about your home chapter and school.  It's a whole lot more than that.  I learned that Phi Delt is an International brotherhood – not a chapter.  I learned that you can love your home chapter while serving an international brotherhood.  I learned that Phi Delt is a whole lot bigger than Kent State University.  And, make no mistake about it; I love Kent State and Ohio Lambda.
I'll never be able to repay Jim for the gift he gave me.  He planted in me a curiosity about the larger organization.  I developed a thirst to know our brotherhood beyond the buildings of Kent, Ohio.  This curiosity lead me to intern at the General Headquarters, which lead to employment on the GHQ staff.  While working for GHQ I met my wife.  To this day, Jim's gift returns to me ten-fold daily.  I can't imagine my life without Phi Delta Theta.   I can't imagine my Fraternity experience without the deep, gratifying experiences I've had serving the General Fraternity.  And, I can't imagine being a Phi without Jim as my brother, mentor and friend.
Thanks Jim!
Brother Fabritius is the General Council Reporter. His other volunteer service to Phi Delt has included Education Commissioner and Province President. Rich lives in Atlanta with his wife, Heather, and their daughters, Austin and Reese. A past consultant and Director of Chapter Services for the General Headquarters Staff, he is a graduate of Kent State University and a member of the Ohio Lambda Chapter. Rich is Vice President, Managing Director of Brunner, an advertising and marketing agency. His hobbies include travel, golf, and boating.